Steps to reproduce
Open Obsidian Canvas.
Add notes, cards, or images and link them together until the canvas is fairly complex.
Expected result
Panning and zooming on the Canvas should stutter very little or not at all.
Actual result
Panning and zooming on the Canvas when a lot of items are onscreen is choppy and slow, making it hard to edit and view the Canvas.
Environment
Operating system: Windows 11
Debug info:
SYSTEM INFO:
Obsidian version: v1.1.9
Installer version: v0.15.8
Operating system: Windows 10 Pro 10.0.22621
Login status: not logged in
Insider build toggle: off
Live preview: off
Legacy editor: off
Base theme: dark
Community theme: Minimal v6.2.0
Snippets enabled: 12
Restricted mode: off
Plugins installed: 31
Plugins enabled: 31
1: Templater v1.16.0
2: Advanced Tables v0.18.1
3: Calendar v1.5.10
4: Dataview v0.5.53
5: Hotkeys++ v0.2.7
6: Natural Language Dates v0.6.1
7: Note Refactor v1.7.1
8: Periodic Notes v0.0.17
9: Review v1.6.4
10: Tag Wrangler v0.5.6
11: Editor Syntax Highlight v0.1.3
12: Paste URL into selection v1.7.0
13: Buttons v0.4.19
14: Better Word Count v0.9.1
15: Graph Analysis v0.15.4
16: Smart Random Note v0.2.1
17: Advanced Slides v1.19.0
18: Zoom v1.1.1
19: Hotkey Helper v0.3.15
20: Hover Editor v0.11.8
21: Sortable v0.3.0
22: Text Format v2.2.1
23: Workspaces Plus v0.3.3
24: List Callouts v1.0.10
25: Admonition v9.0.5
26: Spaced Repetition v1.9.4
27: Vault Statistics v0.1.3
28: Banners v1.3.3
29: Excalidraw v1.8.9
30: Style Settings v0.4.12
31: Minimal Theme Settings v6.2.0
---
Additional information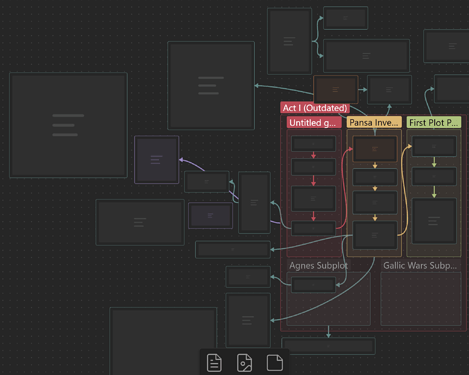 Here is a zoomed out image of my most complex Canvas. At this level of complexity, Canvas slows down almost to the point of being unworkable.