Steps to reproduce
Open obsidian.md and forum.obsidian.md in a web browser and compare the tab icons.
Expected result
The icons should look about the same and be the same size.
Actual result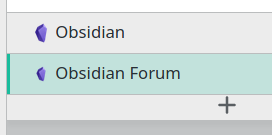 The two icons have different sizes.
Environment
I'm using Firefox on Linux, though I don't think that that should affect the results. The tab arrangement is using Tree Style Tabs, but the same issue occurs on the normal tab bar.
---
Additional information
The main obsidian website links to this as it's icon, but the forum links to a different icon that is lower quality and has a different amount of blank space on the sides.