Steps to reproduce
First, place the cursor at the beginning of line2 (which is almost impossible to do with just the mouse; the arrow's click area is too large).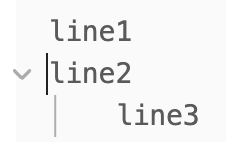 Then, press the backspace key.
Yes
Expected result
The first line become "line1line2" and the arrow disappear.
Actual result
The arrow on the left side of line2 is still there, covers the "e" letter in "line1".

Environment
SYSTEM INFO:
	Obsidian version: v1.3.4
	Installer version: v1.1.16
	Operating system: Darwin Kernel Version 22.4.0: Mon Mar  6 20:59:28 PST 2023; root:xnu-8796.101.5~3/RELEASE_ARM64_T6000 22.4.0
	Login status: not logged in
	Insider build toggle: off
	Live preview: on
	Legacy editor: off
	Base theme: adapt to system
	Community theme: none
	Snippets enabled: 0
	Restricted mode: on

RECOMMENDATIONS:
	none

---
Additional information