We strongly recommend you to search the forum with possible keywords before submitting a new bug report. Please also try your repro steps with third-party plugins and custom CSS disabled and see if it's still reproducible. If it's an issue with third-party plugins or themes, try contacting the author for help. Once you've done the above, delete this line.
Steps to reproduce
Install Obsidian through Flathub
Mount your secondary drive like normal (I go through Nautilus, Other locations, Click the drive, Enter password, Access)
Open exisiting vault on specific locaiton within secondary (already mounted) drive
Write any text
See the error
Expected result
To be able to write to these files
Actual result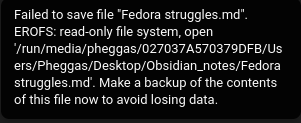 Environment
Operating system: Fedora 36 Linux (Workstation Edition); Wayland; Obsidian installed as flatpak
Debug info:
SYSTEM INFO:
Obsidian version: v1.0.3
Installer version: v1.0.3
Operating system:

#1

SMP PREEMPT_DYNAMIC Thu Nov 3 17:09:02 UTC 2022 6.0.7-200.fc36.x86_64
Login status: not logged in
Insider build toggle: off
Live preview: off
Legacy editor: off
Base theme: dark
Community theme: none
Snippets enabled: 0
Restricted mode: off
Plugins installed: 6
Plugins enabled: 6
1: Emoji Toolbar v0.2.2
2: Paste URL into selection v1.6.0
3: Admonition v6.7.2
4: Advanced Tables v0.15.0
5: Natural Language Dates v0.6.0
6: cMenu v1.1.2
---
Additional information
It did work until this day. From now on it can't somehow write to that file although my linux user has RWX permissions on that file. In Flatseal (Permission manager app for flatpaks) it shows that the app has full permissions on /run/media which is path where my drive is mounted.