Hey, everyone! For those that enjoy studying with flashcards, I thought about a little and simple "system" to practice it within Obsidian. It is nothing fancy, but I loved the way it worked!
Since I am in college, I created "discipline" pages with all the information related to it (professor, texts, tasks, class notes…). For each text I created a "concept list" with key concepts, ideas, questions and any other information I considered important.
Then, for the flashcard reviewing part, with the preview plugin turned on, all I did was think about the content of a certain concept/idea, trying to recall the information (active recall), then hover the link for the preview card to show its contents, allowing me to check if I got it right or not. Then I would put a little emoji next to the concepts I didn't remember very well, so this would help me identify which topics to review more often.
I keep track of these reviews in Notion, but this could be organized with any calendar.
---
The picture below shows a text (CAVALCANTE - Metodologia…) and the concepts list in a quote block. I would look at the concept and try to recall its definition.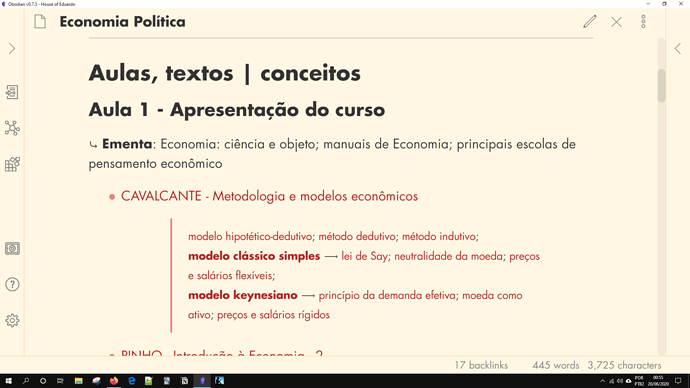 Then I would hover the concept, let's say "Modelo Keynesiano" (means Keynesian Model), and it shows the "other side of the flashcard" so to speak. Like this: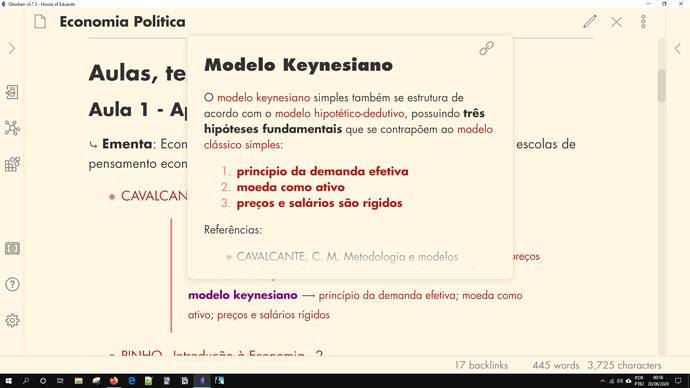 ---
Thoughts? Suggestions?