I'm about to import an awful lot of film and recipe files into Obsidian, and I need to know if I should import the fields as yaml or dataview fields. I have two requirements:
to display info in Obsidian preview mode; and
to displaly on my own webpage at some point.
They seem mutually exclusive in a sense. (By displaying on the web I don't mean using Obsidian's "publish" function which I have but is too limited).
yaml
If Ii use yaml and I don't want all that yaml to display in preview mode then I have to duplicate the info (via dataview or templater) to display it in Obsidian preview mode. I'm not about to copy paste all the yaml fields manually. So I would have to do it via dataview or templater. But if I do that, then converting the md file to html could be tricky because the content of the md file would be filled with inline dataview or non-static templater calls and I'm pretty sure that isn't html friendly.
Here's an example of a film page on Obsidian publish where I use dataview to display the data that is in yaml (the rest of the data was entered manullay even though it is in yaml - which is a pain and I have the info twice).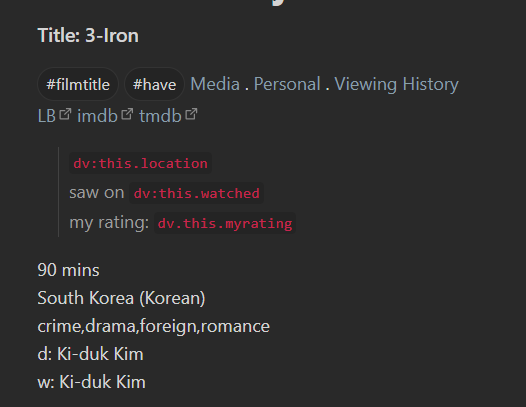 On the other hand I could 'duplicate' the yaml with (static) templater which might do the trick, but I would have to update the data manually in the page content everytime I edited the yaml.
dataview
If I use dataview fields throughout instead of yaml, then at least they display in Obsidian both in edit and preview mode (with :: all over the place, though), but I don't know if I can use the fields in the future once I learn javascript to create html files. (I know it's js based but can I call the values when using double colon as the key indicator, for example, can I call the runtime when it's in this format: runtime:: 120 as opposed to being in yaml?)
This is a screenshot from an Obsidian published film page. It renders in html but I don't know if I could access the data fields in other ways.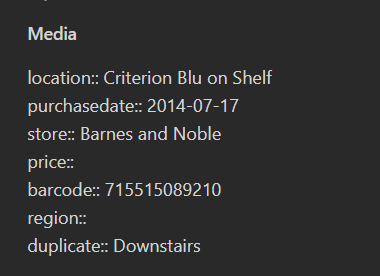 ---
I'd really like to know how you are dealing with this issue (if at all), or what you would recommend.