[TLDR:]
I write ideas in bullet form, each bullet containing one atomic idea. I copy & paste each idea to their own separate note, so I'll end up with a bunch of new notes. I try to find any connections between each of them and create links to related notes at the bottom of the corresponding note. I then make a short essay below each related-note link to make sense of its connection to the main idea of the corresponding note (a note with 3 related-note links will have 3 short essays).
---
Hello.

Have just recently been developing a Zettelkasten workflow using Obsidian. I would like some feedback from you folks, especially those that are more experienced with this. So here's my current workflow:
When I find a video or article that contains note-worthy ideas, I write all of those ideas in one note and in bullet form. This one note containing ideas from one source I call a Reference Note.
In writing each idea, I put in mind the zettelkasten principles: I keep each bullet as atomic & autonomous as I can, and each containing only one idea; essentially, these bullets will become their own zettel and will each link to new separate notes.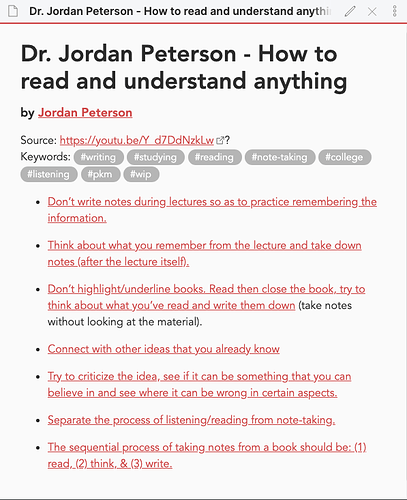 What I do is copy & paste one bulleted idea from the Reference Note to a new note (zettel). I create a link in the new note to the Reference Note in case I want the source. I write tags and leave space for related notes at the bottom. Then I do the same for the rest of the bullets, each having their own zettel, so by the end of it, I'll have the same amount of new zettels as the amount of bullets found in the Reference Note. I also link each bullet to their corresponding zettels. (Filenames are: summary of idea + zettelkasten code thing)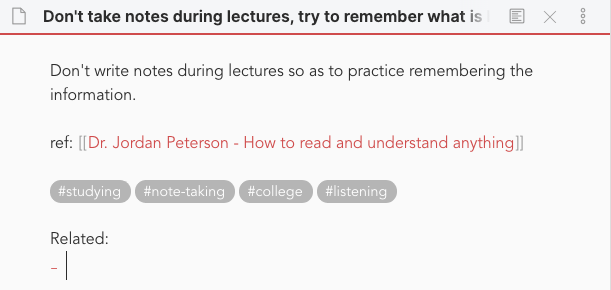 I then open all of the zettels I've made from the same Reference Note and see how I can connect them (since these notes are more likely to connect with each other than with ones from other Reference Notes).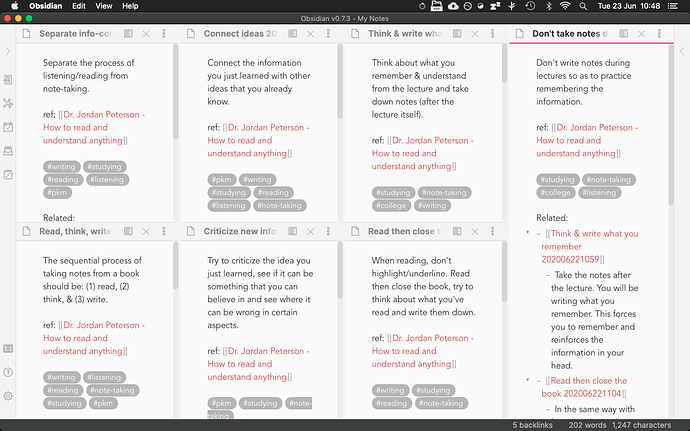 I add links in each note to related notes. Then what I do is pretty much write a short essay below each link, connecting the idea contained in the main zettel and the idea of the linked/related zettel. And I do the same for the rest.

So far, that's pretty much my workflow. I also try to find connections from other notes that I've made, but I don't really have enough of them to cause a surprise.
Concerns
Right now, I don't think I'm doing much work to really drill the ideas in my head, writing the essays allows me to understand the ideas but it barely forces me to remember them. Perhaps you can give suggestions.
My purpose for a PKM is not really for producing content like blogs/articles (though, I'd like to be able to do so if I want to), but I just… for a lack of better words… want a bigger brain lmao, I just want to have a bunch of ideas in my head and allow them to help me whenever there's an opportunity.
I've seen Shu Omi's video regarding the topic and I'm not quite understanding the permanent notes bit, I'd consider my essays from the related notes area my permanent notes I guess, but no separate note making sense of all the connected zettels since I might add new related ideas to the zettels in the future and I'd prolly have to rewrite the permanent notes if that's the case; I also just don't like making long notes.
I don't utilize backlinking at all. I find that I link two notes to each other instead of just having one link to connect both of them, but usually it's necessary for me to write a different essay for each of the two links, plus it's easier for me to navigate from the related notes than through backlinks. Sometimes I do create one link to connect two notes when note A is connected to note B but not vice versa, but this is rarely the case.
I also plan on utilizing the IMF workflow once zettels reach around 100 in number.
Pardon me for the long and messy post. I'd very much appreciate feedbacks. Feel free to ask for clarifications as well. Thank you!