When a list is created using hyphens, before or after a list of checkboxes, there is extra line-spacing between the checkbox-list and the generic list. The same issue does not pop-up when an asterisk is used to create bulleted lists after or before a list of checkboxes.
Steps to reproduce
Create a list of checkboxes. Copy paste the below:
[ ] line 1
[ ] line 2
[ ] line 3
After this, create a list using hyphens using below:
Now enter reading mode or export to PDF.
Expected result
Expect to see an evenly spaced list of bullets and checkboxes.
Actual result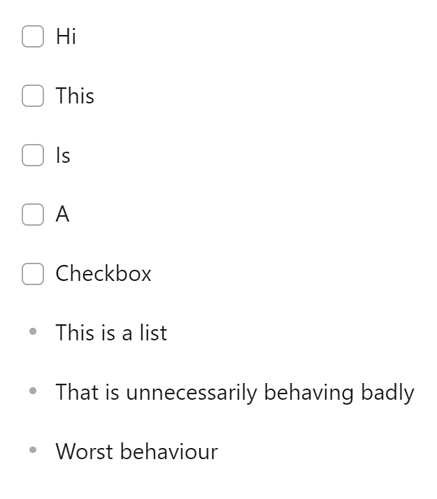 Environment
Operating system: Widnows 11 latest public release as of today
Debug info:
SYSTEM INFO:
Obsidian version: v1.1.9
Installer version: v0.15.8
Operating system: Windows 10 Pro 10.0.22621
Login status: logged in
Catalyst license: none
Insider build toggle: off
Live preview: on
Legacy editor: off
Base theme: light
Community theme: none
Snippets enabled: 0
Restricted mode: off
Plugins installed: 3
Plugins enabled: 3
1: Calendar v1.5.10
2: Kanban v1.5.1
3: Mind Map v1.1.0
---