I would like to export my vault data to an Excel file. By doing so, I aim to gain a comprehensive view of my vault, which will facilitate better decision-making, enhance operational efficiency, and enable effective pattern recognition. Excel's interface, along with its features such as sorting and functions, will aid in achieving these objectives.
Here's an outline of my vault. Plugin: Novel Word Count.
(Number of Notes | Word Count | Approximate Page Count From Word Count)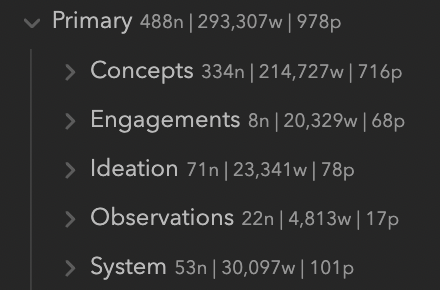 I want this information:
Note Name;
Parent Folder;
Note Title Word Count;
Note Title Character Count;
Note Word Count;
Note Character Count;
Page Count From Word Count
I greatly value any assistance provided, as this particular situation is highly specialized and falls outside my expertise as a non-programmer. Any piece of code that you may support me with would be invaluable to me, you'd be essentially supplying the very building blocks that will shape and define my path ahead allowing me efficiency in operation and saving me precious time. Your contribution plays a pivotal role in establishing a strong and sturdy starting point, allowing me to embark on my journey and life path with confidence and clarity converting fully from Notion to Obsidian.
Thank you for your valuable time and attention.