Steps to reproduce
In a document, end a line with \fi
Press enter.
Move the cursor behind the i of the \fi
Press enter agian.
Expected result
Just a new line.
Actual result
The i is moved into the new line
The line before is still displayed as \fi, but if you put the cursor there again, it will be just \f (without i).
Environment
Operating system: Debian Buster / Gnome
Debug info:
SYSTEM INFO:
Obsidian version: v1.0.0
Installer version: v0.15.9
Operating system:

#1

SMP Debian 5.10.127-2 (2022-07-23) 5.10.0-16-amd64
Login status: not logged in
Insider build toggle: off
Live preview: on
Legacy editor: off
Base theme: dark
Community theme: none
Snippets enabled: 0
Restricted mode: on
RECOMMENDATIONS:
none
---
Additional information
After creating the newline: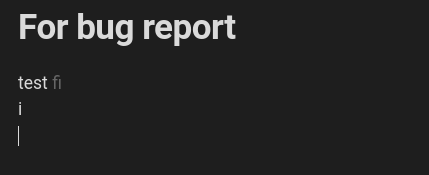 When moving the cursor behind the broken \fi