I have been battling with this error for quite some time, and am now hoping to get some help from the community's wisdom… Any suggestion is greatly appreciated.
What I'm trying to do
I want to implement this blog's process, and use Templater to create subsections for each of my calendar meetings in my daily notes. The approach discussed used terminal tool icalBuddy and the user functions in Templater to achieve this.
Things I have tried
I have successfully:
installed icalBuddy,
run the user function content in my terminal and get desired results,

fixed a number of other errors using Obsidian Console.
But now I am stuck with an " Error: spawn /usr/local/bin EACCES" error that I cannot solve. I know that this means that Obsidian is denied access to the folder, and I have granted full disk access to Obsidian and terminal (not sure if this is relevant but I did it because I am out of solutions). I have also tried the chmod and chown commands in various versions, but nothing seems to work.
(I know there are several posts on syncing google calendar events to Obsidian daily notes and they work quite well, but I have a work outlook calendar so have to use icalBuddy.)
Here is a screenshot of the error message:


Here are screenshots of my Templater settings and definitions, and my function call in the daily note template: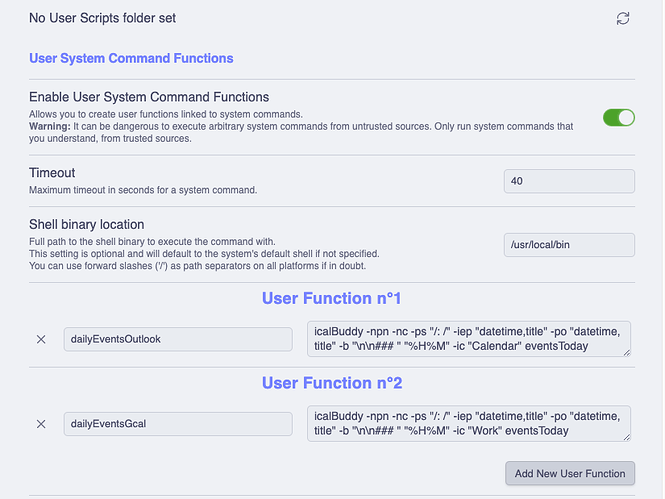 Again, any direction and suggestion is welcomed and greatly appreciated!!