Hi there.
I 'm creating a Table with dataviewjs.
This table searches for certain Metadata in Frontmatter and then I it creates two collums:
showing one Parameter in Frontmatter (date)
embeding a Section from this note with a certain Name
So far it works more or less with this approach:
let pages = dv.pages().where(p => p.Type == "Protokolleintrag") //GET ALL PAGES WITH THIS TYPE

let tableToView = dv.markdownTable(["SP1", "SP2"], pages
	.sort(b => b.Date)
	.map(b => [b.Date, dv.sectionLink(b.file.name, "Notiz", true)]))
dv.paragraph(tableToView);

The result looks fine: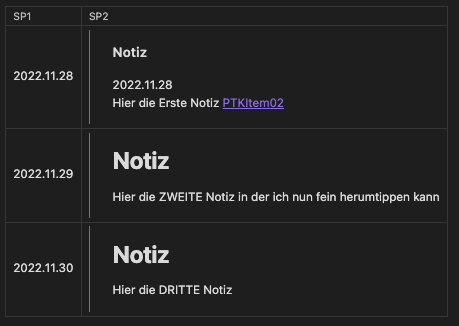 But after a while, or after certain event (I dont know what triggers it) the blended in section disappears and is looks like this, just showing the Filename → Sectionname: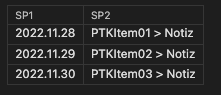 In read-mode the blendet in Section disappears directly.
I want the Section be blendet in all the time. That the clue.
Any hints? Any Ideas why it behaves like that? Or is there another approach?
Thanks so much in advance!
Bluxomat