Problem
When I try to rename a file I get a EACCES: Permission denied, rename' error message:

Things I have tried
Updated Obsidian and plugins to the latest version.
I'm using Obsidian Sync to sync my files.
Checked that folder in my User Library that is synched with Obsidian Sync has Read/Write permissions for my user.
What I find curious is that the file has the following permissions: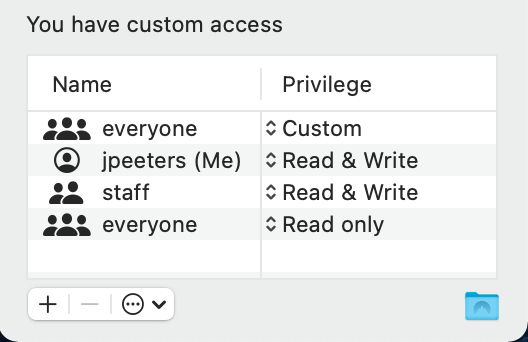 I wonder why there are two 'everyone' settings.
To my knowledge, I have not changed anything manually with this file.
Before I switched to Obsidian Sync the files have resided on iCloud Drive for syncing. Maybe that caused this?
Does anyone know what I need to do to get these files in a state where I can rename them within Obsidian?
Thanks for any help.
Sidenote: the error message spells 'access' incorrectly. it misses a 's' at the end if the word should be 'access' anyway.