What I'm trying to do
Hi! Most recently, I installed the Full Calendar plugin and configured it to record events in daily notes. Unfortunately, events are added to the note in the order they were created, whereas I would like to see them sorted by their start date.
I will give screenshots for greater clarity:
---
This is what events look like in the Full Calendar display (events are numbered according to the order in which they were created):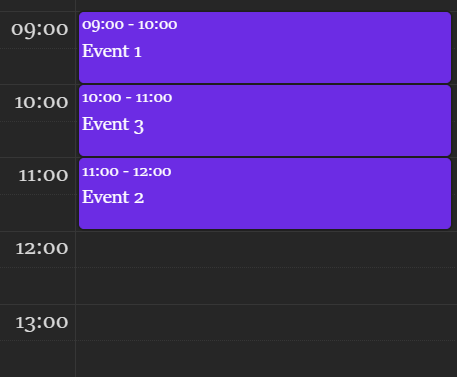 ---
This is how they are displayed in my daily note. That is, each new event is added to the top of the list, regardless of its start time:

---
I would like the events to be arranged according to the order of their beginning, that is, as follows:

---
Things I have tried
I think this is quite an obvious thing and such behavior must have already been implemented by someone. However, all my searches related to the settings of the Full Calendar plugin itself, as well as other plugins capable of sorting lists by certain elements, did not bring results.
I also tried to implement such a display of tasks through dataview, as well as through embedding the calendar itself in a note, but I am not familiar with the syntax of JS, so I also had to abandon this idea.
I will be glad of any suggestions. Thank you in advance!