Steps to reproduce
Basically try entering any less common diacritic combination, such as those used in phonetic transcription (my use case). For example the symbol for the voiceless retroflex nasal ɳ̊ or the linguo-labal fricative θ̼.
Expected result
The diacritic should be rendering directly above or below the character.
Actual result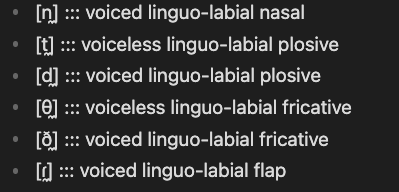 Environment
Operating system: MacOS
Debug info:
SYSTEM INFO:
	Obsidian version: v1.1.9
	Installer version: v0.15.8
	Operating system: Darwin Kernel Version 22.1.0: Sun Oct  9 20:14:54 PDT 2022; root:xnu-8792.41.9~2/RELEASE_X86_64 22.1.0
	Login status: not logged in
	Insider build toggle: off
	Live preview: on
	Legacy editor: off
	Base theme: adapt to system
	Community theme: none
	Snippets enabled: 3
	Restricted mode: on

---
Additional information
I have tried this with multiple fonts, including fonts that render the combination character correctly elsewhere.