First, search the help docs and this forum. Maybe your question has been answered! The debugging steps can help, too. Still stuck? Delete this line and proceed.
What I'm trying to do
Create a roll-up of all my literature notes
Things I have tried
I am using this template:
table
title as Title, 
FirstAuthor as "First Author", 
Year as Year,
itemType as Item, 
Citekey as Citekey, 
Contribution as Contribution
FROM "[insert Literature Notes folder here]"

From this medium article: An Academic Workflow: Zotero & Obsidian | by Alexandra Phelan | Medium
However it always ends up without the data from the uploaded articles:

And the articles have the data in them: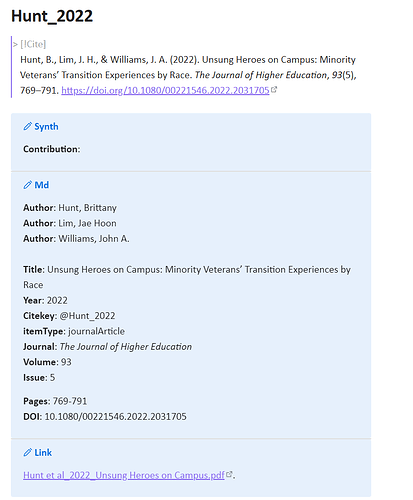 What am I doing wrong