PS: I am not quite well in English so I am still trying my best to present myself. Please let me know if you know how I can communicate more correctly or properly, thanks in advance!
What I'm trying to do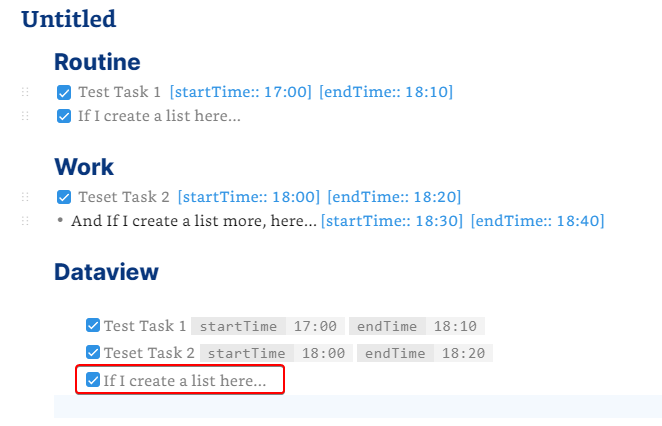 TASK
FROM "Untitled.md"
WHERE startTime != null and startTime >= "12:00"
SORT startTime ASC

When I want to put the tasks that generated by Full Calendar plugin I use, into my Daily Notes Dataview part ,
I basicaly want to filter tasks by time range so that I could categorize them (say, "morning tasks","afternoon tasks", etc) and I am using the startTime and endTime field to do this job.
I try to use this simply WHERE command WHERE startTime >= "12:00" to do it.
Then, the situation appears like that picture shows. I do not want to add the tasks which don't have such fields(inline or not inline) I want, say, "startTime".
So I read the github dataview manual and add startTime != null expression and and it, but it do not work. I also tried to find keywords and funcs like exist, any, contains but still not help. Forgive me for being a dataview newish.
Things I have tried
I have
searched Dataview Github - List Func part by "any""contains" etc, but I still can not figure out the answer clearly.

browsed and checked some relating threads, but still no answer, especially using inline field.
PS: These above, I would push myself that I could dig further and deeper into it, but eventually gave up, I think it is more helpful for me to seek for online help use English instead. I think perhaps I could learn more about community and communications.

tried to move that task up and down in the article layout, but turned out that did not help.

Use test solution below but did not work:
I think, maybe I can put all of tasks which have such inline fields into some specific header, and maybe the problem will be temporarily solved.
TASK
FROM [[Untitled#Routine]]
WHERE startTime != null and startTime >= "12:00"
SORT startTime ASC

But, dataview just showed Dataview: No results to show for task query..
So after all of that, I would like to know how to reach the first goal and why my second solution still not available…
More Things
I don't quite often online so I feel sorry about if I am not responding quickly.