Hi,
After having looked art the details for the last two days I am sure that the error sits on front of the keyboard, but I seem to be blind and need some help, please.
What I'm trying to do:
Using data view, I am trying to list all notes in a specific directory which I have written on a certain day, e.g. I want to see all notes I have written yesterday.
What I have tried so far:
I have eight files I am testing with (all of them empty):
20221119 - test1.md
20221119 - test2.md
20221120 - test3.md
20221120 - test4.md
20221120 - test5.md
20221119 - test6.md
20221119 - test7.md
20221121 - another test note.md
From the data view GitHub pages, I understand that all files/notes that have the date in file title (of form yyyy-mm-dd or yyyymmdd), also have the attribute file.day. Above files fulfilled that requirement, if I am not mistaken.
Therefore I have played around with a dataview code as follows:
LIST file.day
FROM "1 aws/1 notes/1 meeting notes"
WHERE file.day = date(today) -dur(1 day)

Based on the files above I get following result: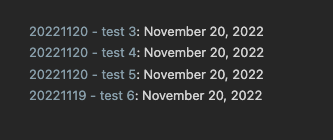 Yesterday was 20th November - above results shows the file "20221119 - test 6.md", which has apparently the attribute 20. November, which does not make sense as it clearly says in the file name 20221119, a date two days ago.
If I am changing the dataview code to this:
LIST file.day
FROM "1 aws/1 notes/1 meeting notes"
WHERE file.day = date(today)

the result I am getting is this:

This does not make any sense to me as well, as one file has todays date (November 21st) in the file name and therefore file.date should be November 21, 2022.
Funny enough, even when I play around with the number of days in the -dur() option I cannot get the files "20221119 - test 7.md" and "20221121 - another test note.md" to show up using any number whatsoever.
I am sure, I don't see the forest for the trees, but I cannot get my head around this - please help

THANKS!