Steps to reproduce
The text circled in red is missing in View mode. It appears in Live View mode.

Expected result
Here is the output of Preview on GitHub of the same text: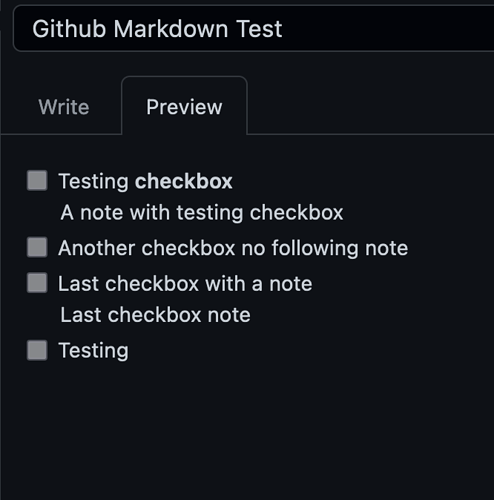 I would expect the same output in View mode as is shown in GitHub Preview mode.
Actual result
See steps to reproduce.
Environment
Operating system: MacOS 12.1 (M1 Mac)
Note that Theme did not matter (same results in both base shipped theme and downloaded theme)
Debug info:
SYSTEM INFO:
Obsidian version: v0.13.14
Installer version: v0.13.14
Login status: not logged in
Insider build toggle: off
Live preview: on
Legacy editor: off
Base theme: dark
Community theme: Things
Snippets enabled: 0
Safe mode: off
Plugins installed: 2
Plugins enabled: 2
1: Tasks
2: Advanced URI
---
Additional information
Here is the raw Markdown that I used:
- [ ] Testing **checkbox**
A note with testing checkbox
- [ ] Another checkbox no following note
- [ ] Last checkbox with a note 
Last checkbox note
- [ ] Testing