I'm having troubles locating the CSS selectors to change the size and appearance of tooltips. So given the code below, I would like for the tooltip to be larger and possibly formatted differently than it currently is under the Minimal theme.
<span title="My tooltip&#013On two lines">Test</span>

Which currently displays as:


I really would like for this text to be larger.
Things I've tried
I've tried using Developers Tools in Elements pane, but I'm having a hard time getting it to show styles in action when a tooltip is activated. I've tried setting various Focus state's, but there's something I'm missing related to that, as it doesn't have any effect that I can see.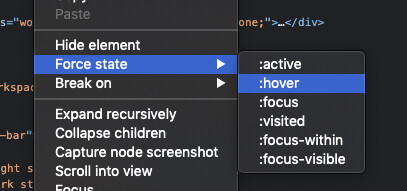 So this doesn't show the tooltip, and thusly not the CSS selectors to use.
I've also tried doing stuff related to .tooltip, and setting the --color-tooltip-bg just to see if that somehow targeted the tooltips. But no luck in either case.