Steps to reproduce
Below actions are failing
a. check of updates
b. view plugins and themes
c. check for plugin and theme updates
It seems like obsidian has become offline.
I tried with a fresh install and a new vault with no plugins and an existing vault with some plugins.
Is there some setting to make it fetch properly?
I don't know how to resolve this.
Kindly help.
Expected result
Should have shown plugins and themes, but it cant fetch them.
Actual result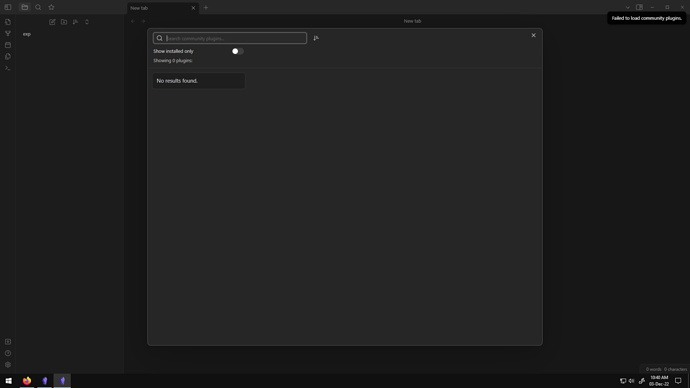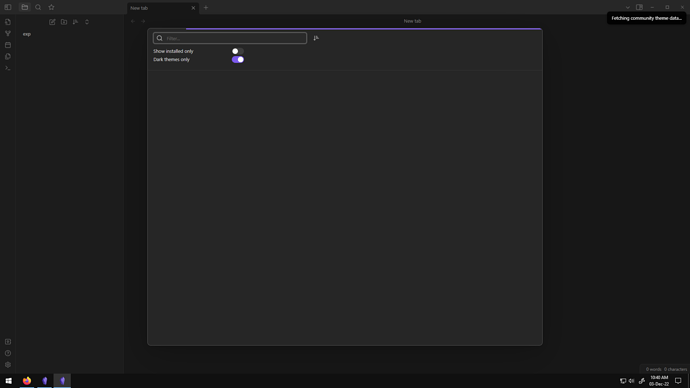 Environment
Operating system: WIndows 10
Debug info:
SYSTEM INFO:
Obsidian version: v1.0.3
Installer version: v1.0.3
Operating system: Windows 10 Pro 10.0.19045
Login status: not logged in
Insider build toggle: off
Live preview: on
Legacy editor: off
Base theme: dark
Community theme: none
Snippets enabled: 0
Restricted mode: off
Plugins installed: 0
Plugins enabled: 0
RECOMMENDATIONS:
none
---
Additional information