What have I searched
this uses a list to indent a code block.
but I want to indent code block without list…! is this possible?
is this intended behavior?
Steps to reproduce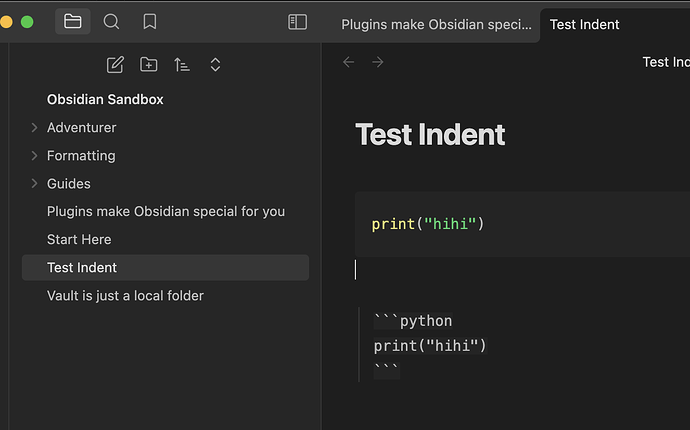 Expected result
I want code block to be indented without a list
Actual result
it looses syntax highlight when I indent it
Environment
SYSTEM INFO:
Obsidian version: v1.3.7
Installer version: v1.3.5
Operating system: Darwin Kernel Version 22.3.0: Mon Jan 30 20:38:37 PST 2023; root:xnu-8792.81.3~2/RELEASE_ARM64_T6000 22.3.0
Login status: not logged in
Insider build toggle: off
Live preview: on
Legacy editor: off
Base theme: dark
Community theme: none
Snippets enabled: 0
Restricted mode: off
Plugins installed: 1
Plugins enabled: 1
1: Obsidian Git v2.20.7
RECOMMENDATIONS:
Community plugins: for bugs, please first try updating all your plugins to latest. If still not fixed, please try to make the issue happen in the Sandbox Vault or disable community plugins.
---