Once you've done the above, delete everything above this line.
Steps to reproduce
Create closed callouts with embedded notes as content
One of the embedded notes contains an image
On Reading view, open the callout with the embedded note that has the image.
Scroll down
Scroll back up to close the callout
Some other callouts are missing
Yes
Expected result
All the callouts written remain on the page
Actual result
Some other callouts disappear, and only reappear after some scrolling
Environment
SYSTEM INFO:
Obsidian version: v1.4.14
Installer version: v1.4.13
Operating system: Darwin Kernel Version 23.0.0: Fri Sep 15 14:43:05 PDT 2023; root:xnu-10002.1.13~1/RELEASE_ARM64_T6020 23.0.0
Login status: not logged in
Insider build toggle: off
Live preview: on
Legacy editor: off
Base theme: dark
Community theme: none
Snippets enabled: 0
Restricted mode: off
Plugins installed: 0
Plugins enabled: 0
RECOMMENDATIONS:
none
---
Additional information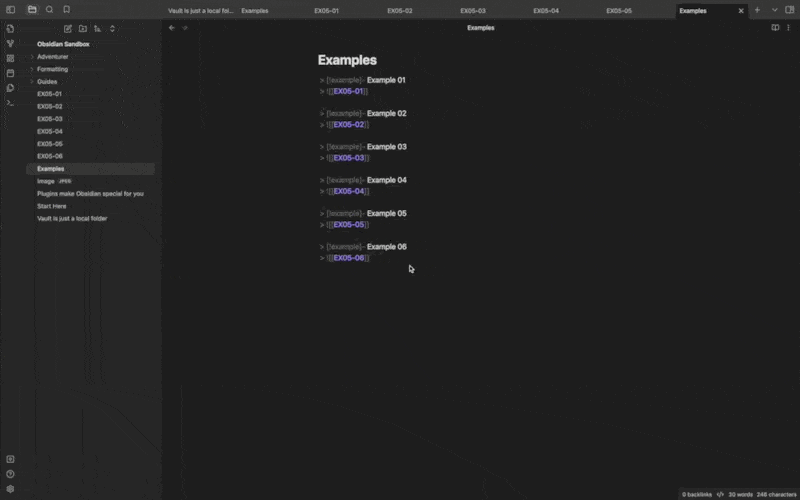 I can reproduce it with any image embedded in a note, but the bug doesnt seem to happen when no callout has an image.
This is the note with callouts
> [!example]- Example 01
> ![[EX05-01]]

> [!example]- Example 02
> ![[EX05-02]]

> [!example]- Example 03
> ![[EX05-03]]

> [!example]- Example 04
> ![[EX05-04]]

> [!example]- Example 05
> ![[EX05-05]]

> [!example]- Example 06
> ![[EX05-06]]

All the embedded notes (EX05-01…) are just a bunch of text with a ![[image.jpeg]] in