Platform
[X] iOS
[ ] Android
Obsidian Mobile version: v0.0.17
iOS: 14.4.2
Tested on iPhone and iPad with the same result
---
Hi there

!
There are 2 very small glitches with the very new Font Size slider

.
(I searched if it was mentioned before but couldn't find a post related to that. Sorry if I missed it

)
First one :
When changing the size, the bubble indicating the chosen font size stay visible after scrolling through the rest of the menu (it only disappears after tapping somewhere else), which in itself is a little bit weird

.
Not a big deal, but I just thought I would mention it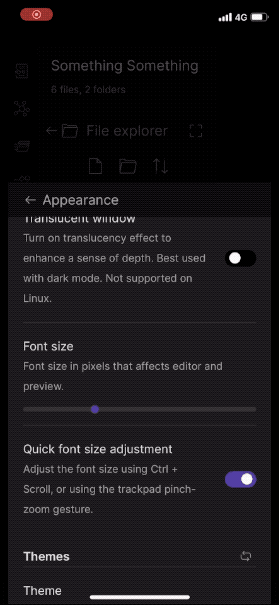 Second :
When trying to select a size (specifically, between 15 and 17 (as the default size is 16 on iOS)) the slider "jumps" when passing over 16 (because, I think, the reset icon disappears when hitting 16) making it a bit difficult to precisely select either 15 or 17 as a font size (specifically on the small screen of an iPhone as it doesn't jumps so much on iPad)

.