When you put text before quote it works. But when you put text after quote it doesn't work (added redundant blue border in line where no quote).
You can reproduce:
Line with text (before quote)
> Line with quote (after text)

> Line with quote (before text)
Line with text (after quote)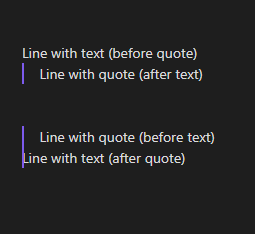 I know new lines in markdown aren't always new lines (for example you have tu put empty line). But in Obsidian markdown new lines are new lines. So I expect that new line without quote character have no border.
I guess I can fix it myself with custom CSS. But I think it's core feature so I report this.