Hi everyone,
Is there anything that in Obsidian/Markdown Syntax that will blockquote or similarly mark or differentiate text, which is created from wrapped characters - specifically that will work with markdown bullets?
What I'm trying to do
I am moving from LoqSeq to Obsidian, and to a fair amount of the below when copying/pasting emails, articles, etc into LogSeq. In Obsidian, longer text blocks don't "stay together" and having a way to have a syntax wrap would help vs. a starting character (i.e. how the current blockquote formatting works).
This is the syntax in LogSeq (which is Org-Mode I believe)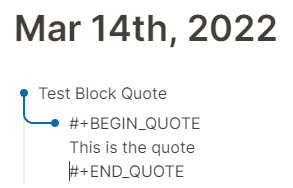 This is how that renders: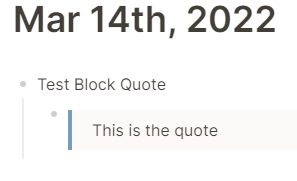 Things I have tried
In current syntax a copy and paste looks like this:


I've tried the "Paste to Current Indentation" which does exactly what it says, but line breaks in the pasted text still are separate from the bullet itself (meaning you cannot fold up into the bullet, or block reference the bullet).
I've tried "toggle blockquote", but that does not play nicely with bullets.