Steps to reproduce
Download Obsidian 0.12.15 installer and run it
App completes installation with no error
App attempts to launch, but does not appear on screen or in taskbar. 3 background processes appear in Task Manager however
Expected result
App to launch and be greeted by welcome screen.
Actual result
App fails to launch and instead opens up 3 background processes in Task Manager. Closing one of these instances will either reopen it, or a white box will appear but application will not initialize.
Environment
Operating system: Windows 10 Pro Version 21H1
Obsidian version: 0.12.15
---
Additional information
I am attempting to install Obsidian on my work laptop. I went through the approval process and their support have been able to install and run Obsidian without issue on a test computer. Additionally, it was pointed out to me that their test computer is running Windows 10 Version 20H2.
Other steps I've taken to try and troubleshoot:
Restarting and attempting to launch again
Uninstalling using the included uninstaller and reinstalling (same result)
Running the uninstaller, deleting the following directories and then installing again:

%userprofile%/AppData/Local/Obsidian
%userprofile%/AppData/Local/obsidian-updater
%appdata%/obsidian

Running installer as admin
Running app as admin
Running in compatibility mode for Windows 7 + 8
Screenshots below:
3 background processes that open when attempting to launch: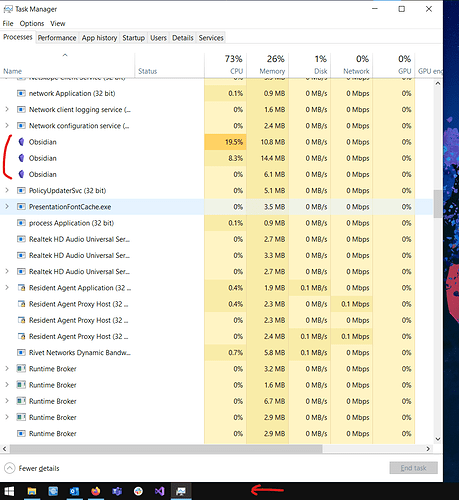 White box that sometimes appears when ending one of the background tasks:

Windows specifications: