Having read through these interesting posts, I decided to throw in my thoughts for consideration.
A few days ago I came up with the same link-type method described by @usergenic here:
https://forum.obsidian.md/t/add-support-for-link-types/6994/20
Then I came upon this thread of discussion. As I was reading through it, I became more and more concerned about, simply put, complexity. I live and breathe by a foundational Unix philosophy:
The only universal interface is text
This is a deeply profound statement, all the more impressive given that it was proffered decades ago during the birth of information theory and well before we had to deal with deprecated file formats and the like; they saw the future.
Personally I like to store my most important information in the most foundational format possible (text) using the most foundational tools possible (Unix utilities, which I believe hits the 50th birthday next year). I've lived long enough to see software come and go, file formats come and go, and indeed entire languages come and go. What, then, is the best method for information representation over the long haul? I'll get to that. But first, my concerns with the conversation:
Layers upon layers of software complexity
Reading through the list of products mentioned in this discussion, I became concerned with the additional layers of software complexity and software dependencies. Which one of these products will be around in 10 years? Because my notes will still be there (23 years of notes and counting…) but I would never want to have to worry about maintaining an entire software stack to make them useful. My notes have to work for me, not the other way around. Which is a nice segue to my next concern
Littering notes with information expressed in outdated languages.
There's a reason why the legal profession likes Latin terms, and it's not to confuse people. It's because dead languages don't change. In the law, it's important that a contract written 50 years ago is still unambiguous 50 years hence. Therefore the law uses certain Latin terms to protect against ambiguities created by changes in word usage over time. I am seeing in this thread more and more complexity suggested, via language specifications that could go by the wayside in the future. Do you really want to have to go through a language translation on thousands of notes later? It's more likely you'll be hoping someone else wrote a utility to move those specifications into the Next Great Language, and you'll be on that treadmill to the grave.
To each his own. Returning to my original rhetorical question:
What, then, is the best method for information representation over the long haul?
My notes are designed for the following model: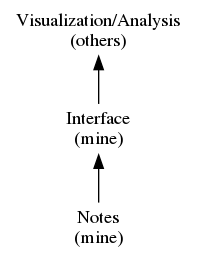 My notes are foundational. I represent information using my own methods, so they will never have to change. The important thing is that my methods represent an unambiguous grammar. Since they're my methods, I understand them well and can extract information when necessary. I use external (3rd-party) tools for visualization and analysis. It only requires that I create an interface between the notes and the tool. This is typically just a script. If I want to change tools, or add another tool for some new, cool visualization, nothing about my notes will have to change. I just need to extract the relevant data via a new interface script. We can call the scripting the "Middle Tier." By separating the information from the tools by a Middle Tier, the information remains unchanged.
Addressing "my" methods
It's ok to adopt some existing specification; you don't have to roll your own. The key questions to ask yourself are:
"Can I live with this forever? (Think in terms of information representation, extensibility, and parse-ability.)
Will I ever have to go back and change hundreds or thousands of notes?
(Addressing parse-ability) Using these representations, do I have the skills to extract my own information?
If this information has to survive me, while my family may know nothing about my toolset, can they at least read and understand the notes?
Don't fall for the siren's call of the concept of One Tool to Rule Them All. Searching for the Grail might be more successful. I prefer a modular architecture with an everlasting foundation.