Things I have tried
I want to create a link to another note from a list of items:
This is the list:
- a
- b
- c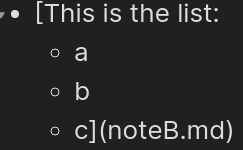 There is not a link as you can see on the attached screenshot.
What I'm trying to do
I am trying to add line breaks to place each line of the bullet list on a different line and considering the first line along with the bullets list must points to another note.
Thanks.