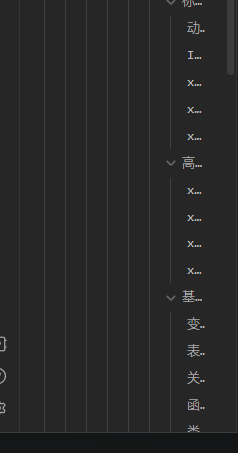 Do you mean a horizontal scroll bar?
You should be able to add one (or to make the text wrap) with a CSS snippet. If you search the forum I think you may find one you can adapt.
I think this should be supported officially rather than let user do such a "dirty" work…
can you update the title of your FR? a bit confusing with "vertical"
I'm just saying, here's something you could do in the meantime.
Also, if they do anything I'd personally prefer they wrap the text. The old default theme had horizontal scrolling and it degrades the vertical scrolling experience with unintended sideways movement.
I'm one of those who want a horizontal scrollbar too.
I would like an option to switch the horizontal scroll bar ON/OFF in the official.
Currently, the following CSS is added to use the horizontal scrollbar.
.nav-files-container {
  overflow-x: auto;
}

.nav-file-title, .nav-folder-title {
  width: max-content;
}

Thanks, also again: I think this should be supported officially rather than let user do such a "dirty" work…