Hi, so I'm using the external link syntax for simple annotations in live preview. As you can see in the screenshot, they work as intended in Live Preview, that I can alt+click on the links to edit and view comments inside the curly brackets ().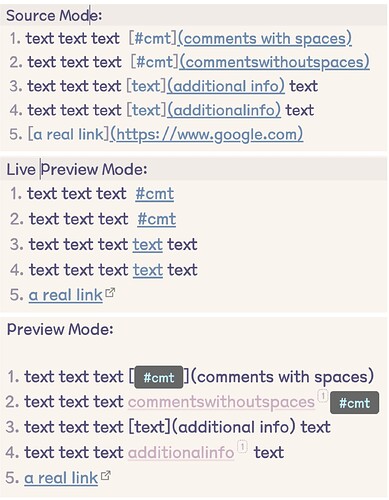 However in the Preview Mode, only links with a valid URL are rendered as external links (as in bullet point 5).
For strings without spaces (as in 2, 4), Preview Mode treats them as unresolved links and displays the URL instead of the text we want to display.
For strings with spaces in between (as in 1,3), Preview doesn't recognize them as links.
Since embeds are in Preview Mode, this becomes a problem when I reference these blocks from other notes.
So my question is, is there any way that I can make Obsidian recognize all of these formats as real links, and just display the text in square brackets[]? Any CSS snippets that could make this possible?
Thanks!