When I try to bold text, I sometimes unexpectedly bold more text than I wanted to, because I selected a trailing space.
Example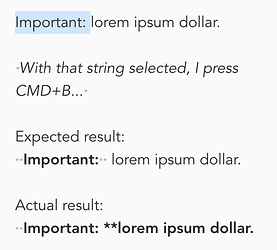 Comment
I find this happens especially often when I'm editing on a touch screen device.
In most text editors (e.g. Google Docs, Bear…), if your selection includes a trailing space, that doesn't mean you end up bolding the entire selection AND all the text that follows. So I think the current behavior will seem like a bug to most people.
Edit: Well, it doesn't seem like a bug to Whitenoise, so I'm posting as a feature request, per their request.
Environment
Operating system: Mac, iOS, Android
Obsidian version: 0.12.5