Tables produce repeating visual artifacts in live preview mode on Debian Linux.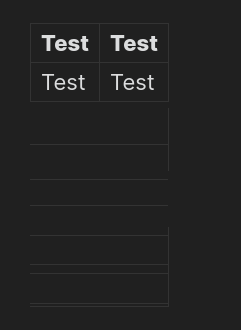 Steps to reproduce
Use the following table with plenty of space above and below it to allow scrolling. Scroll up and down.
| Test | Test |
| --- | --- |
| Test | Test |

Environment
sandbox
SYSTEM INFO:
Obsidian version: v0.14.15
Installer version: v0.13.23
Operating system: #1 SMP Debian 5.10.120-1 (2022-06-09) 5.10.0-15-amd64
Login status: not logged in
Insider build toggle: off
Live preview: on
Legacy editor: off
Base theme: dark
Community theme: none
Snippets enabled: 0
Safe mode: on
---
Additional information
The visual artifacts appear only in live preview on Debian Linux. I couldn't reproduce the artifacts on Windows 10 or Fedora Linux, which leads me to believe this is something particular for Debian.
Alternatively, this is due to my setup (running Debian inside a virtual machine), but no other graphical program has any issues and the artifacts persisted despite changing the graphical accelerator. I'm unable to test whether Debian outside a VM would produce the artifacts as it isn't the host operating system.