Hello everyone! I wanted to ask on features I'm missing out on, specifically ones like how to use the graph system, canvas, the new card arrangement, etc. I realize the former is an older feature, but would rather address it on this topic rather than on duplicates.
The majority of this topic deals with how to handle Logistics first (since I know next to no one to advise me on it), then inquiring about which of the available features that can improve my note-taking and how each does so.
---
Things I have tried
Graph Logic Processing Issue
I have sorted my vault in the following order. This is mockup of what it is, with altered names for the sake of privacy.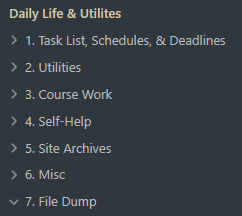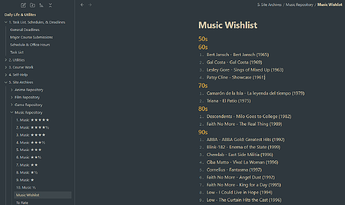 So far I don't see any reason to change this from what it is. It's accessible and easy to digest, perfect for me. However, I believe the graph view is powerful enough to grant further optimized accessibility if handled well

As can be seen here, the connections are quite weak, and I intended to strengthen them somehow.
Black Vault
I've been looking forward to making a sort of vault that's private and hard to access from strangers. I've looked into a thread about this and the solutions were to typically encrypt the files/folders through a third party software, which seemed too tedious to look for.
What I've tried to is put the vault in a different flash drive I've added a bitlocker to, but I'm apprehensive to allow access to Obsidian in case it compromises OPsec somehow. I'd like to hear suggestions on this and assurance if I'm being needlessly paranoid or not.
File Organization (Lower Priority)
Multimedia are an essential part of my note-taking. I also find myself using a large amount on whim to better format my note for future use. This is how I've been organizing my media so far (redactions in place over personally sensitive filenames).


The issue I have with this is if I'm looking for a specific file quickly without having to look for it in several notes, especially if the notes in question are private and would rather not let people see it first-hand.
As the picture shows above, I've simply put them on a file dump folder as to not clutter the vault. Two simple solutions come to mind: as far as I'm aware, you can simply name each filename to categorize them alphabetically, such as workouts - db shrugs.png, for instance; the other is to make a dedicated file dump folder for each main folder, so for workouts it would have all gifs and such for it, art stuff in a dedicated folder, etc.
Both methods I'd rather not use, for how tedious it becomes which then makes me refrain from organizing, making it progressively harder to engage with the program altogether. If it's too late to request an easier solutions, then I'll have to put up with it just fine. Again, as file explorer suggests, I'd rather not put up with the chore.


---
What I'm trying to do
Graph Logic Proccesing Issue
I didn't quite understand the workflow of it, so I've only used it for 3-4 times in the span of months, last time just happened to be two days ago but was quite apprehensive about it. It's not a technical problem, but I personally request a simple explanation on how to specifically use it. In other words, I've failed to properly learn this feature…
Black Vault
I'd like to hear your suggestions for programs I can quickly apply encryption on folders/files on, and lock/unlock my "Black" vault when I need to. I'd like to hear suggestions on this and assurance if I'm being needlessly paranoid or not.
File Organization
As stated above, I simply would like to hear the available options for file organizations so I'd be better informed on how to manage them as I please.
Features
I'm trying to open my way into using more of Obsidian's features to my advantage, but I don't know where best to start integrating them after having used the program for months and built my note-taking on current methods - ones I don't find optimal any longer.
---
Hopefully I've formatted the topic in a readable, non-intrusive manner. I tend to shy away from major social medias like reddit and such, and I find forums to be a powerful tool for cohesive communities is why I chose to join and discuss this topic. I'm not sure if help topic is appropriate as well, so please inform me to change it or feel free to change it appropriately if you're a moderator.
Thank you in advance.