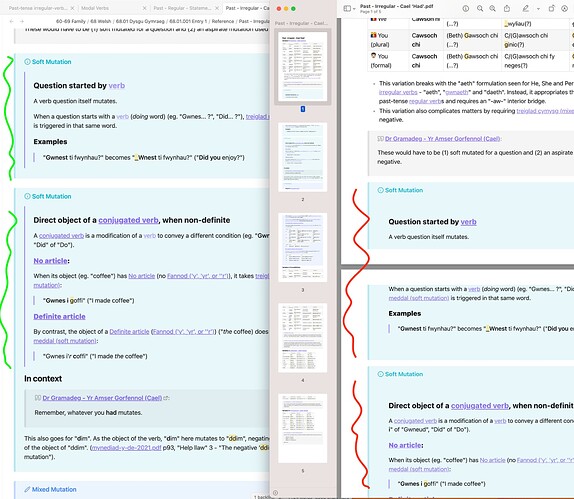 On the left:
Obsidian note with some transcluded files contained in call-outs. Example:
> [!INFO] Soft Mutation
![[treiglad meddal (soft mutation)#Question started by verb]]

This shows the left border of the included file, indicated in green.
On the right:
When exported to PDF, the left border is not rendered. Indicated with red.
The transcluded files themselves also contain blockquotes. These borders are rendered correctly up in the parent doc.
---
FYI, the rendered callout in Obsidian (ie. before export to PDF) is…
<div><div data-callout-metadata="" data-callout-fold="" data-callout="info" class="callout"><div class="callout-title"><div class="callout-icon"><svg xmlns="http://www.w3.org/2000/svg" width="24" height="24" viewBox="0 0 24 24" fill="none" stroke="currentColor" stroke-width="2" stroke-linecap="round" stroke-linejoin="round" class="svg-icon lucide-info"><circle cx="12" cy="12" r="10"></circle><line x1="12" y1="16" x2="12" y2="12"></line><line x1="12" y1="8" x2="12.01" y2="8"></line></svg></div><div class="callout-title-inner">Soft Mutation</div></div><div class="callout-content">
<p><span alt="treiglad meddal (soft mutation) > Question started by verb" src="treiglad meddal (soft mutation)#Question started by verb" class="internal-embed markdown-embed inline-embed is-loaded"><div class="markdown-embed-title"></div><div class="markdown-embed-content"><div class="markdown-preview-view markdown-rendered node-insert-event show-indentation-guide"><div class="markdown-preview-sizer markdown-preview-section" style="padding-bottom: 0px; min-height: 226px;"><div class="markdown-preview-pusher" style="width: 1px; height: 0.1px; margin-bottom: 0px;"></div><div><h4 data-heading="Question started by [[verb]]"><div class="heading-collapse-indicator collapse-indicator collapse-icon"><svg xmlns="http://www.w3.org/2000/svg" width="24" height="24" viewBox="0 0 24 24" fill="none" stroke="currentColor" stroke-width="2" stroke-linecap="round" stroke-linejoin="round" class="svg-icon right-triangle"><path d="M3 8L12 17L21 8"></path></svg></div>Question started by <a data-href="verb" href="verb" class="internal-link is-unresolved" target="_blank" rel="noopener">verb</a></h4></div><div><p>A verb question itself mutates.</p></div><div><p>When a question starts with a <a data-href="verb" href="verb" class="internal-link is-unresolved" target="_blank" rel="noopener">verb</a> (<em>doing</em> word) (eg. "Gwnes... ?", "Did... ?"), <a data-href="treiglad meddal (soft mutation)" href="treiglad meddal (soft mutation)" class="internal-link" target="_blank" rel="noopener">treiglad meddal (soft mutation)</a> is triggered in that same word.</p></div><div><h5 data-heading="Examples"><div class="heading-collapse-indicator collapse-indicator collapse-icon"><svg xmlns="http://www.w3.org/2000/svg" width="24" height="24" viewBox="0 0 24 24" fill="none" stroke="currentColor" stroke-width="2" stroke-linecap="round" stroke-linejoin="round" class="svg-icon right-triangle"><path d="M3 8L12 17L21 8"></path></svg></div>Examples</h5></div><div><blockquote>
<p>"<strong>Gwnest</strong> ti fwynhau?" becomes "<mark>_</mark><strong>Wnest</strong> ti fwynhau?" ("<strong>Did you</strong> enjoy?")</p>
</blockquote></div></div></div></div><div class="markdown-embed-content" style="display: none;"></div><div class="markdown-embed-link" aria-label="Open link"><svg xmlns="http://www.w3.org/2000/svg" width="24" height="24" viewBox="0 0 24 24" fill="none" stroke="currentColor" stroke-width="2" stroke-linecap="round" stroke-linejoin="round" class="svg-icon lucide-link"><path d="M10 13a5 5 0 0 0 7.54.54l3-3a5 5 0 0 0-7.07-7.07l-1.72 1.71"></path><path d="M14 11a5 5 0 0 0-7.54-.54l-3 3a5 5 0 0 0 7.07 7.07l1.71-1.71"></path></svg></div></span></p>
</div></div></div>

Environment
Operating system: macOS
Debug info:
SYSTEM INFO:
Obsidian version: v1.1.0
Installer version: v0.15.9
Operating system: Darwin Kernel Version 21.3.0: Wed Jan 5 21:37:58 PST 2022; root:xnu-8019.80.24~20/RELEASE_X86_64 21.3.0
Login status: logged in
Catalyst license: insider
Insider build toggle: on
Live preview: on
Legacy editor: off
Base theme: light
Community theme: none
Snippets enabled: 10
Restricted mode: off
Plugins installed: 39
Plugins enabled: 11
1: Raindrop Highlights v0.0.14
2: Admonition v9.0.5
3: Heading Shifter v1.3.1
4: Link Headers Directly v1.0.2
5: Linter v1.8.0
6: Natural Language Dates v0.6.1
7: Obsidian42 - BRAT v0.6.36
8: Paste URL into selection v1.7.0
9: Simple Embeds v1.13.0
10: Tasks v1.19.0
11: Advanced Tables v0.18.0