Hello,
I want to give Obsidian a try (on Windows 10), however something is not right.
I had troubles while installing the app - the installation would hang around this percentage: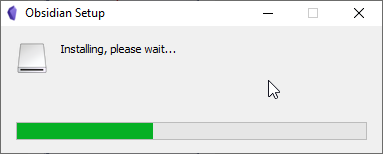 However, after killing it, it *seems * Obsidian is installed - but when I click on the .exe, I get this message.
I am the system admin, I have no problems installing other programs (including random exes from Github), so I wonder what can be done here. I tried running it as administrator, checking if it's blocked by anything, moving it out from AppData folder but still no change.

No further info available on this message box…
============
Update:
Actually, after writing this post, I ran the installation again, and this time… it succeeded, but ended up with the 'Got Blocked' warning.
Then, I tried running it as Admin (again, like yesterday) and this time it worked.
Sadly, setting it to 'Always run as administrator' does not work, but when I each time right click and 'Run as admin', then it works.
For me that's pretty much resolved, but I'll leave it here - perhaps the product team would be interested in knowing that some users might have problems at start.
Regards,
Bartosz