Hey guys, Erin here with Readwise

Excited to share that we just shipped our official Obsidian integration!
With this premium plugin, you'll be able to:
↔️ Automatically and continuously export all (or a select few) of your highlights directly into Obsidian.

Export enriched metadata (eg book covers) and even highlighted images.
Fine tune how your highlights format in Obsidian using our powerful templates including support for YAML front matter.
And if you've been tagging in Readwise for a while , you'll likely be welcomed by an epic knowledge graph similar to our co-founder Dan's: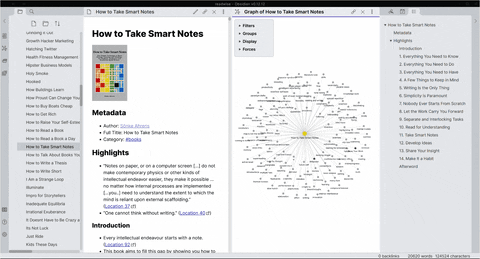 You can try it out here → Readwise Official Obsidian Integration
Note: This plugin requires a subscription with Readwise — a paid service that makes it easy to aggregate and review all your reading data into one place.
If you're new to Readwise or have been waiting on this integration, feel free DM me and I'd be happy to reinstate your free trial