Steps to reproduce
1. open the general graph.
Expected result
Expect to see notes on the general graph.
Actual result
The overall graph is empty. There are no notes on it.
Environment
SYSTEM INFO:
Obsidian version: v1.4.5
Installer version: v1.4.5
Operating system: #1 SMP PREEMPT_DYNAMIC Thu, 24 Aug 2023 00:38:14 +0000 6.4.12-arch1-1
Login status: not logged in
Insider build toggle: off
Live preview: on
Legacy editor: off
Base theme: dark
Community theme: Minimal v7.2.1
Snippets enabled: 0
Restricted mode: off
Plugins installed: 4
Plugins enabled: 2
	1: Remotely Save v0.3.25
	2: Outliner v4.8.0

---
Additional information
First of all, this came out a little over a week ago. I tried uninstalling cache, reinstalling obsidian, changing themes, deleting everything from the .obsidian folder. Nothing has helped.
Below is what I see when I go into the graph.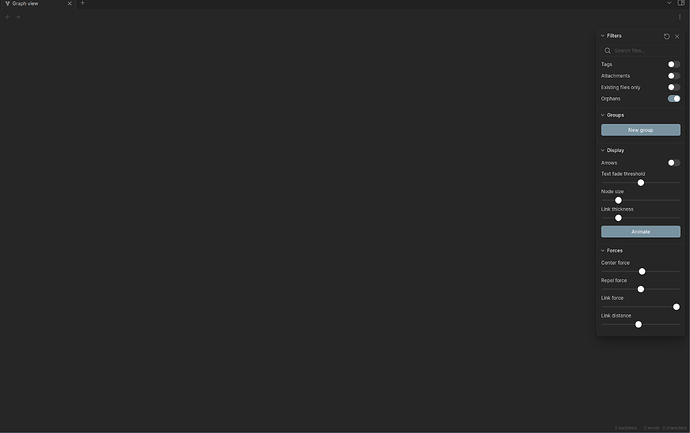 It's important to clarify that I can open the local graph in a note first and it will work. Then go to the general graph and it will also work, but much worse than before. There will be no "circles" on the notes, just links between them ("sticks"). Screenshot below.