I installed the plugin "Obsidian Tag Cloud". I tried making a word cloud for my vault (it didn't work sadly,) but then the text became really big. And it's happened all over my vault - every note has really big text.
Things I have tried
I can't zoom out because that also zooms out the file explorer.
I tried Ctrl + 0 and that doesn't work.
I've tried restarting Obsidian
And restarting my PC
And ultimately I uninstalled the plugin, and restarted my PC, and the issue still persists
This is what it looks like (file explorer text for scale)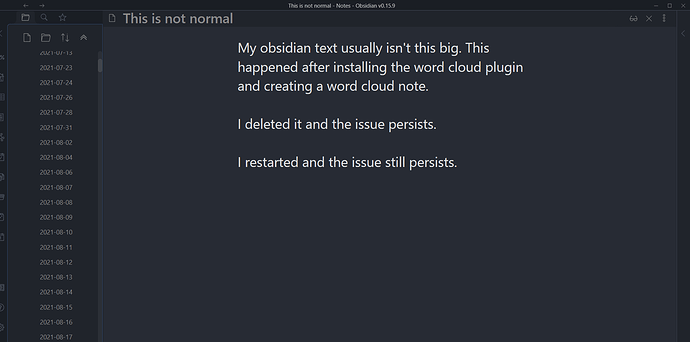 I've already raised a bug on the plugin github: Tried using word cloud - now my Obsidian is absurdly big and I can't reset it · Issue #9 · joethei/obsidian-tagcloud · GitHub. I'm just looking for any advice about how to get my Obsidian back to normal size.