I've read a lot of previous topics about sums in Dataview but I can't wrap my head around it. All the topics I've read are convoluted with other formatting, formulas etc. I'm trying to just understand the fundamental and have a very basic sum. Help is greatly appreciated.
What I'm trying to do
I'm just trying to sum up the hours in the table, maybe grouped by the month.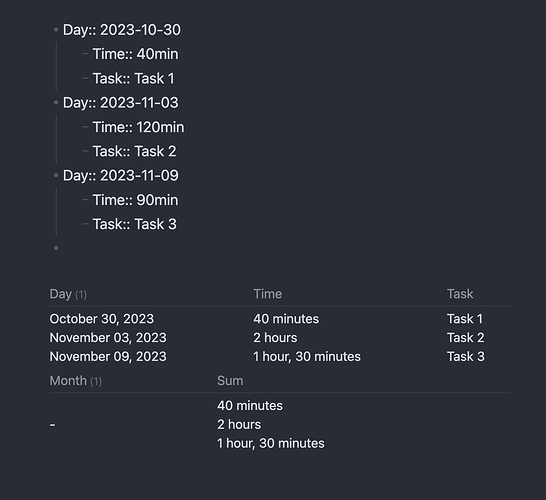 Things I have tried
I've tried the queries below. The first works fine, the second doesn't as you can see in the screenshot above.
TABLE WITHOUT ID
	Day,
	Time,
	Task
From "Z - Playground/Note"

TABLE WITHOUT ID
	Day.month AS Month,
	sum(map(rows, (r) => default(r.Time, 0))) AS "Sum"
FROM "Z - Playground/Note"
GROUP BY Day.month