Is it possible to view other notes with the same tag in the (local) graph view, when it's otherwise an orphan and there are not a link to the given note?
Things I have tried
So I'm fairly new to Obsidian, and there might be something obvious that I'm missing, and if so I'm sorry. But I've tried most of the filter options in the graph view, and I've increased the depth to 4, enabled tags, and neighbor links.
I've tried searching the help, and also tried looking for plugins to possibly achieve this.
The same behaviour is also shown in the global graph view, although it's a little harder to detect there as most documents are linked by other means.
What I'm trying to do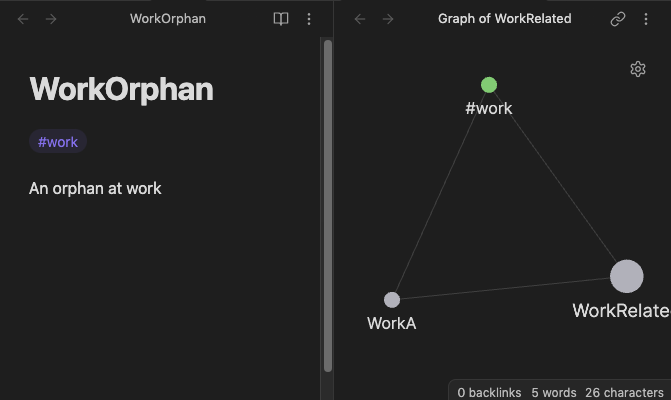 In my example I've got three documents all with the tag #work, namely WorkA, WorkRelated and WorkOrphan. I'm showing the local graph of WorkRelated, and since also WorkOrphan has the tag #work I would like for it to show in the graph view.
Is this not possible, or am I just misunderstanding something?
My ultimate goal would be to have a document with a collection of tag, and then by using the local graph view (or the global graph view) be able to navigate all related notes marked with the given tags. Currently, it requires an intermediate step of clicking the tag, and then using the search result to show a given note. ( If these notes had been shown in the graph view, I would have been able to also see which notes are linked with multiple tags, to the same notes. )
Regards,
Holroy