On newly opened notes, the scroll bar doesn't work at all. From what I can tell, about 1/3 of all the themes have this issue. The scroll bar will kick into gear once you use the scroll wheel on your mouse.
I've tried it on two different windows computers.
I've uploaded a video to discord because only photos are allowed here, it seems.

Steps to reproduce
I did these as a sanity check. Not necessary for reproducing bug:
I completely uninstalled Obsidian and scrubbed my system of all traces and reg files with an uninstaller program.
Installed Obsidian 0.6.2 fresh. Just added the help files. And made then tested every theme for the scroll problem.
Steps:
From an empty window, open a note or two while in the default theme
Change the Theme to any of these "Ursa" by ezs; "CyberDynalSynth" by nickmilo; "Comfort color dark" by ezs; "Dracula for Obsidian" by jarodise
Close all the notes and open them up again
Try using the scroll bar…It doesn't work
(for testing, make sure and avoid touching your scroll wheel on your mouse) This kicks it into gear and starts the scroll bar working.
Go to CSS plugin settings and choose a differnt theme, other than the above options.
Close all notes and open again
The scroll bar works.
As I was going through, I found several other issues, but maybe those will be other bug reports. But to summarize.
Bullets: they are completely gone in the Edit mode
Invisible: 3rd level directories are invisible in the file explorer
Padding: Just a super excessive amount of patting so that it's hard to function with more than one open note
Sidebar: really difficult and frustratig to get the retracted sidebars to show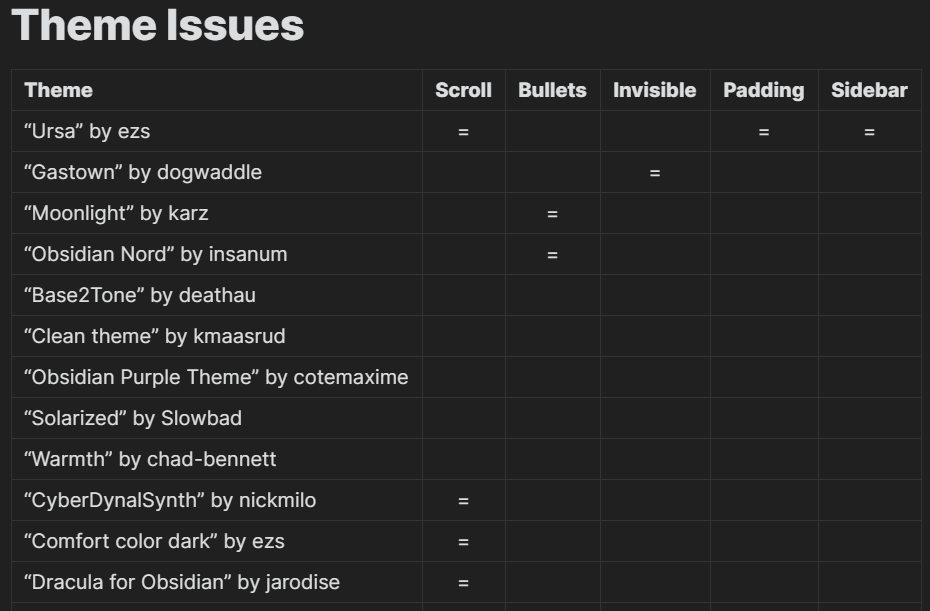 Environment
Operating system: Operating system: Windows 10
---
Additional information