Hey all,
(This is my first time posting on the obsidian forum, so if this isn't the right location for this, apologies in advance.)
I'm p34ch. I'm really passionate about knowledge management and think the Obsidian community is really special (imo, it's a large portion of Obsidian's value as a tool). So I'm excited to start interacting with some of you all!

Anyways, I wanted to talk about a use case i had for regex today. Maybe it will be helpful to some people here. I think regex works really well when combined with Obsidian. As we all know, one the defining characteristics of Obsidian is that everything is text, which has a lot of benefits (data interoperability, lack of vendor lock-in, etc). One of those text-based benefits is that you can use all the powerful text editing tooling that has existed since way back when (think early unix days).
One of those is regex (for those that aren't familiar, regex is a way to define a pattern of text that you want to search for. It's extremely powerful, especially when used to make large-scale refactors to notes). Well, today, I was experimenting with a new workflow for content analysis of blog articles, and I wanted a way to extract all my highlights I made from my annotated markdown file. I searched the community plugin marketplace, and the main plugin for this doesn't appear to support highlights made with html mark elements.
Luckily, this was extremely easy to do with regex. Basically, I just used regex to find all my mark elements (ie. <mark .*>.*</mark>), selected and copied them all. Super easy. Here's a gif (note: I opened my vault in IntelliJ, which is where I do a lot of my large-scale text refactoring. I'm sure VSCode has the same feature.)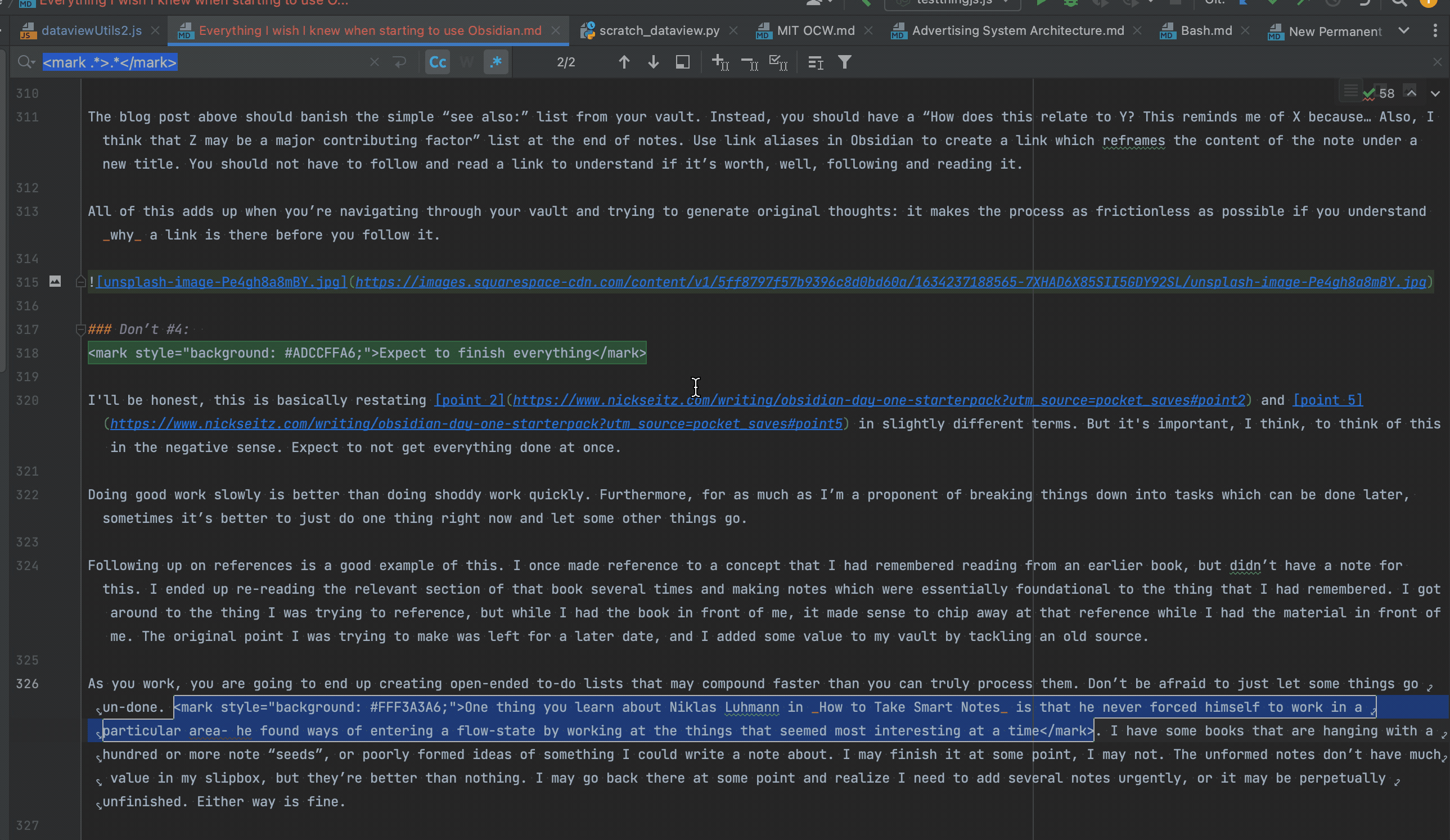 In the future, I'd like to post about some use cases I've had for more advanced regex features (like numbered capture).