This is about Obsidian Publish pages.
Use case or problem
Want to use basic markdown like emphasized text and strong text in headings. Problem is: the Table of Contents (when enabled) doesn't process them, and so renders as follows: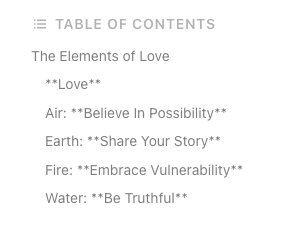 From: The Elements Of Love on goinglovefirst.com.
Proposed solution
Parse the markdown in titles for the Table of Contents, or at least the inline markdown syntax.
Current workaround (optional)
Not using bold/italic at all in titles.