Newbie here. I have tried searching, but couldn't find this mentioned elsewhere. Also, I don't use any non-core plugins yet.
Problem: When I make an indented/nested to-do list, it looks fine in edit mode, but not in reading mode: it scratches out the nested task even though the box is not ticked.
Steps to reproduce
Make to-do list (Ctrl + enter), write something, hit enter, tab, write something. Mark first task done (Ctrl + enter again), view in reading mode (Ctrl + e).
Expected result
For the first task to be marked complete, but not the second.
Actual result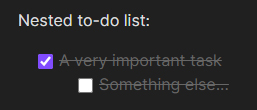 Environment
Operating system: Windows 10 Home
Debug info:
SYSTEM INFO:
Obsidian version: v0.13.33
Installer version: v0.13.31
Operating system: Windows 10 Home 10.0.19043
Login status: not logged in
Insider build toggle: off
Live preview: on
Legacy editor: off
Base theme: dark
Community theme: none
Snippets enabled: 0
Safe mode: on
RECOMMENDATIONS:
none