Hi all, I'm a research scientist working in cancer biology currently interested in migrating my literature reviews from OneNote to Obsidian. I've made a decent start and like this approach so far but I've hit a point where I'm running into a few issues that I haven't found a straightforward answer to yet.
There are 2 topics here:
Specific issue with managing image assets with base Obsidian organization.
I'm all ears for any tips you may have for my use cases.
#1 Specific Image Org Issue:

I like snipping key figures from references as I go through papers and have been putting them in a specific Vault_assets folder for importing notes into Obsidian. These will be re-used for specific TOCs and MOCs as my vault grows. When I drop a .png or .jpeg asset into an Obsidian note, it creates a new file in the left nav bar. I'd prefer it all live in a folder, but when I set the assets folder in Settings to its own folder, I'm still getting the same issue. Do I need to manually aggregate these to a specific folder no matter what or is there some obvious setting that I'm missing?
#2 General Feedback
I work with several different "targets" of interest in cancer biology, which can refer to the specific gene that encodes that target or its expressed protein form. Different research groups tend to focus on specific targets over time, so there's continuity over time as new findings emerge for citation as well. I include this because there are a few key things I'm using as fodder for links: target names, biological phenotypes, and authors. Here's what that looks like for OneNote, which I've been using for this since 2016 or so: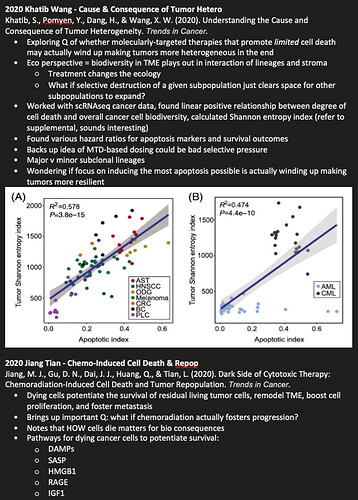 Clunky stuff, but I've made do with it and Mendeley. However, now that I've seen what Obsidian can do, there are several use cases I'm interested in any and all pointers any of you may have:
Reference manager (I note there are some threads on .bib integration with Zotero that I need to follow up on) – being able to search by target name, year, topic, etc and see the links to other targets and findings will be really excellent moving forward.
Writing tool – writing grants and papers is a slog on reference management, so I'm interested in testing Obsidian as a means of writing out linked chunks as a TOC for first drafts.
Jupyter notebook organization & lab notebook