Hey Everyone

I am new to Obsidian, well new in the terms that this time I want to actually use, I have downloaded the App a few times but got overwhelmed to a point I back out but have a clear purpose this time round but need some help getting off the ground.
I hope this category is the right place for my question?!
I asked this over on the Discord but it didn't really help much, I can't reference back what was said (easily), it just left me with more questions and wondering if my "setup" was going to work for me which in turn just left me procrastinating.
The Background
I am a volunteer on a local heritage railway, on the railway as a volunteer there are lots of areas that you can potentially be involved in and with them areas are rules, to progress you must know the rules but at the same time other volunteers will sometimes share knowledge with you from their years and years of experience.
I need to learn the rules and to do that I can't just read the rule book, I like to take the rules and put it next to pictures or break them down into notes, this is where (for me) Obsidian is going to come in.
The Goal
Keeping all this information in a nice to read, searchable place is my ultimate goal but I need to find a structure that is going to work for me.
My Brain
When tags first came to the mac, I tried to use it but it just didn't work, my brain likes folders, I don't know why I just like to be able to visualise things I guess.
So metadata and front matter are things that I am finding really confusing when trying to build a note template - mainly because I can't visualise how it all comes together.
My Attempt
With all the above in mind this is my attempt at creating a vault.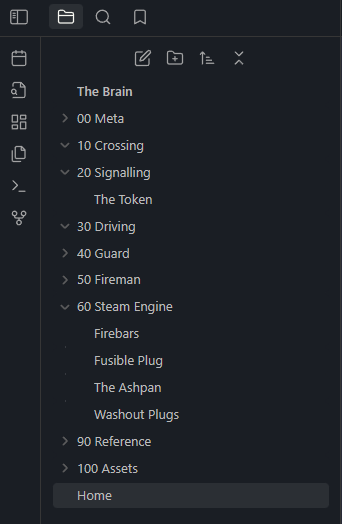 The Problem
I immediately ran into an issue, lets take Signalling as an example, this topic can cross multiple other areas for example a Driver needs to know signalling and so does a Guard but a Guard doesn't need to know about the Signal Box frame.
I guess what I am looking for is some advice on how I can lay my notes and my vault out so that I can take notes of the rules, jot down the knowledge shared with me, store pictures of loco parts with descriptions in a way that will work - though I understand this will evolve over time, I just need a spring board to get going.
Oh and yes, I tried them YouTube videos but Zettelkasten and other really complicated methodology and loads of plugins to get this really involved workflow just put me off.
Thanks
Rich