Steps to reproduce
Create a new vault, activate both 'English' and 'German' in the editor settings as spellcheck languages.
Create a file and insert this text:
Deis ist ain Baispiel führ einen Sats.
Thiss is an äxampel fohr a säntence.
Expected result
I'd expect to see spellckeck suggestions for the misspelled words in both languages.
Actual result
Only suggestions in the first language are shown (in this case English).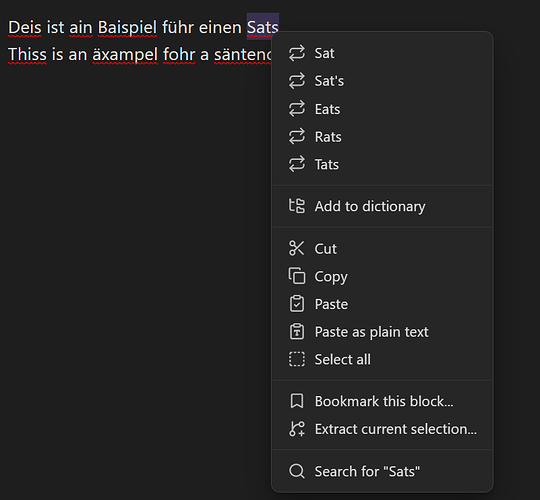 Environment
SYSTEM INFO:
Obsidian version: v1.3.3
Installer version: v1.1.9
Operating system: Windows 10 Home 10.0.22621
Login status: logged in
Catalyst license: insider
Insider build toggle: on
Live preview: on
Legacy editor: off
Base theme: dark
Community theme: none
Snippets enabled: 0
Restricted mode: on
RECOMMENDATIONS:
none
---
Additional information
I already opened a thread with the same issue quite a while ago:
No spellcheck suggestions when using more than one languages - Bug graveyard - Obsidian Forum
Unfortunatley, it's still not solved.