Hi, I am having an issue with one of my vaults. its indexing but showing negative numbers, taking a long time, then stops before finishing (or so it seems, just sits on -8 for like 20 mins).
I am accessing it on a Windows 10 PC but the vault is stored on a hard drive connected via USB to my Mac Mini. The drive is formatted as fat so both OS's can read/write to it. The network drive is added in explorer so the system has the path and login/pw always available. I have no problem accessing other vaults on that drive.
I accessed the vault once on another Windows PC and it indexed fine. It isn't open currently on that or any other computer.
I have other vaults on that drive and can access them fine, one had 500+ records and I just added more via file explorer and when restarting Obsidian it found and imported them giving me 700+. The vault I am having issues with only has 79 ish files.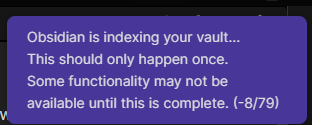 What can I do to fix it?
Things I have tried
Restarted Obsidian
Deleted the .obsidian folder
Exclaimed "oh come on"
Tried searching help file for where the index is stored in hopes deleting it would do something
What I'm trying to do
Let the vault index so I can use it.
example it won't let me rename a note while indexing, the name field stay what I typed in it but the Obsidian tree and File Explorer don't change.