I haven't noticed this before but apparently using a naked alias inside wiki brackets (like this: [[nelson2011zzStructure]]) does not point that link to the note with the alias in question!
Maybe this is not a bug but rather an under-documented way the aliases/links work now, but I cannot imagine this behaviour having a meaningful reason: if I have a note titled "Ted Nelson's zzStructure paper" and it has an alias nelson2011zzStructure, it it highly unlikely that I also create a note called nelson2011zzStructure! Right now this is perfectly possible and leads to confusion.
For context, my use case is pretty straightforward: I want to use citekeys as aliases while naming the notes using the full source title and author. If aliases worked as proper links that would make my references way tidier: [[nelson2011zzStructure]] looks much better than [[Theodor Nelson − A Cosmology for a Different Computer Universe_ Data Model, Mechanisms, Virtual Machine and Visualization Infrastructure]].
Steps to reproduce
Create a note titled Alias Test Note
Add frontmatter alias to it:
---
aliases: [alias-test]
---

go to any other note and create a link to the first note by typing [[alias-test]], DON'T use autocompletion when you do that.
Expected result
The link points to the note titled "Alias Test Note"
Actual result
The links points to a non-existing note titled "alias-test". This note will be created when the the link is clicked.
After that there will be two notes shown by autocomplete in the quick switcher dialog and during new link creation
Environment
Operating system: Windows 10
Obsidian version: 0.11.9
---
Here's a screenshot showing the original note (top left), incorrectly created noted titled same as aliast (bottom left), and another note with links to both of these notes, in edit mode (top right) and in preview mode (bottom right). Plus the autocompletion dropdown during link creation is also shown.
Marked in yellow is the proper note title. Marked in green is it's alias. Marked in red is another note that gets created when I click on the red link in the bottom right pane.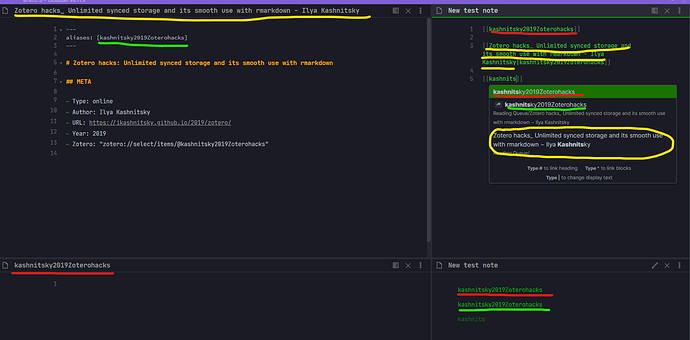 Hope this makes sense. Feel free to move this to another category if "Bug reports" doesn't apply.